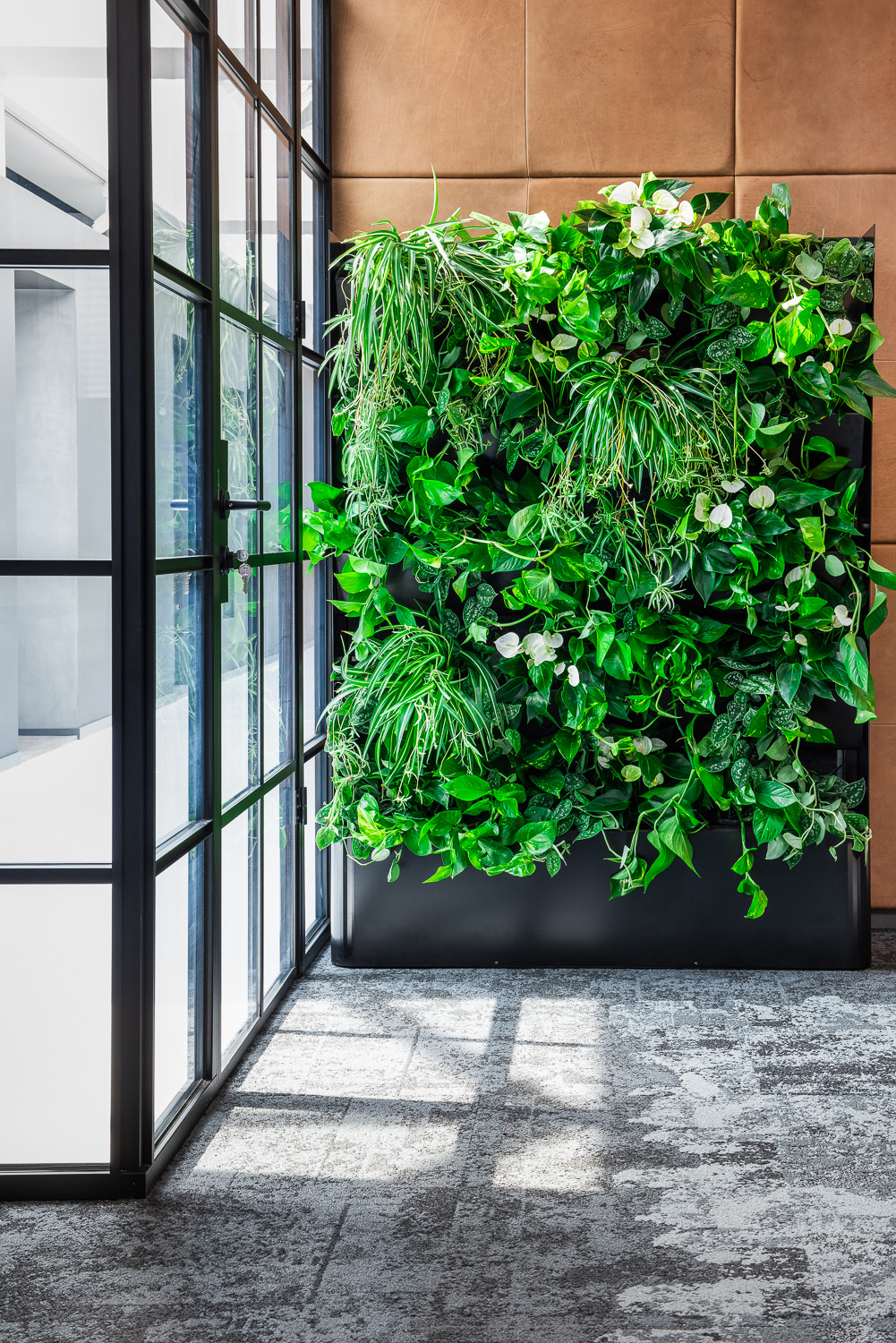 A green plant wall that is easy to move and ready to use immediately. The divider can be enhanced with various backing walls, like a whiteboard or rubberwood panel, making the plant wall divider multifunctional.
REQUEST QUOTE
Create an optimal indoor climate with the plant wall.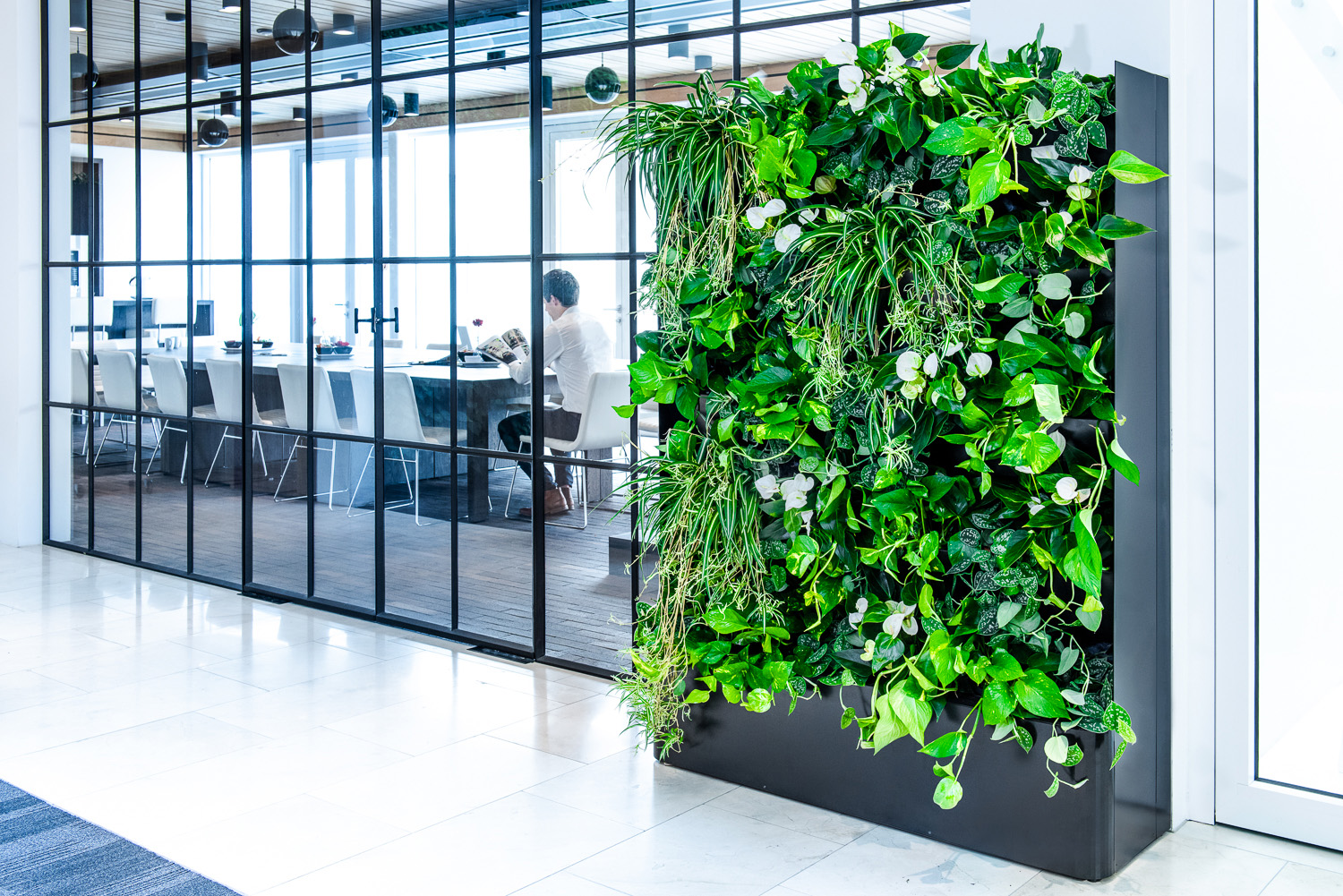 In addition, the divider provides privacy and improves the acoustics in the space. 
PLANT­WALL
DIVIDER
Description
The plant wall divider is made of powder-coated steel and is circularly produced in the Netherlands. The divider is available in sizes S through XL and can be equipped with various backing walls. For example, a whiteboard, a rubberwood panel, or a panel onto which an external screen can be mounted. Do you require something different? Our designers would be happy to work with you on a custom solution.
Dimensions of single-sided room dividers
MDL Single S Room divider: 120 x 140 x 30 cm

MDL Single M Room divider: 120 x 180 x 30 cm

MDL Single L Room divider: 160 x 140 x 30 cm

MDL Single XL Room divider: 160 x 180 x 30 cm
Double sided roomdividers
Roomdivider MDL Double S3: 103 x 114 x 60 cm
Roomdivider MDL Double S4: 103 x 146 x 60 cm
Roomdivider MDL Double S5: 103 x 178 x 60 cm
The plant wall divider system is a sustainable choice. It is made of high-quality powder-coated stainless steel. It therefore never has to be replaced and has an infinite lifespan.
The divider is supplied with a large water buffer, which is integrated into the stainless steel plant modules. The system therefore requires little maintenance. Once every 3 to 4 weeks on average.
System:
MDL system. Supplied ready to use, incl. plants
Weight:
Approx. 90 kg/m² incl. plants and water
Material:
Powder-coated fire-retardant stainless steel.
Watering:
The plant wall divider is equipped with a manual hydrological system.
The metal that Cloud Garden uses is Fire Class A and is therefore non-flammable.
Fire Class A
The material becomes slacker from ± 450°C
The material becomes weaker from 550°C
The construction becomes distorted from 10 minutes at 600°C (loss of strength)
PLANT SPECIES
We decide on the plant mix for the green wall in collaboration with you. From a fully styled plant wall to a staggered jungle wall with a mix of plants. We cater for all needs. View the indoor air-purifying plants here.
Improves the indoor climate
Enhances happiness at work
REQUEST A QUOTE
Need more information about the plant wall divider?
We will provide you with a no-obligation quote.
OTHER CLOUD GARDEN PRODUCTS
GREEN PLANT WALL TO 25M2
Looking for a small green plant wall up to approximately 25m²? Then choose Cloud Garden's MDL system. The green solution for small surfaces. 
GO TO PRODUCT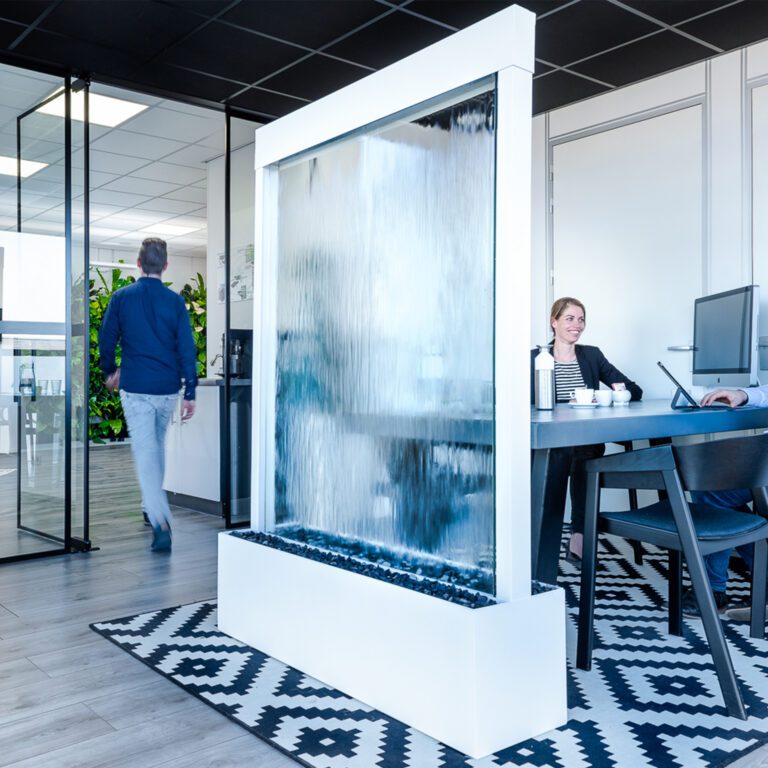 WATERWALL
A real eye-catcher. A transparent and translucent water wall that increases the humidity in the room and catches particulate matter. Customize the water wall with your own logo or text and create a unique item.
GO TO PRODUCT
PLANT WALL MINI
The mini plant wall is Cloud Garden's smallest green solution. The 60 by 60 cm green solution is ideal for small (office) spaces. The greenery improves the indoor climate and at the same time creates atmosphere.
GO TO PRODUCT
CONTACT
Would you like to know more about Cloud Garden's green facade solution? Niels would be delighted to tell you more.