GREENING SOLUTIONS
FOR INDOORS
HEALTHY, AMBIENT AND ENERGY-EFFICIENT SOLUTIONS
Discover the power of nature and opt for our greening solutions. Cloud Garden's air-purifying plants provide an optimal indoor climate. They regulate the temperature, the humidity, and really enhance the ambience too. Suitable for every space.
DOWNLOAD OUR BROCHURE
CONTACT WITH
CLOUD GARDEN
Want to know more about our green indoor solutions? We would be delighted to assist.
THE BENEFITS
OF INDOOR GREEN
Green reduces
sickness absence
A study by Wageningen University
showed that people who work in a
space with plants have a 20%
lower absentee record.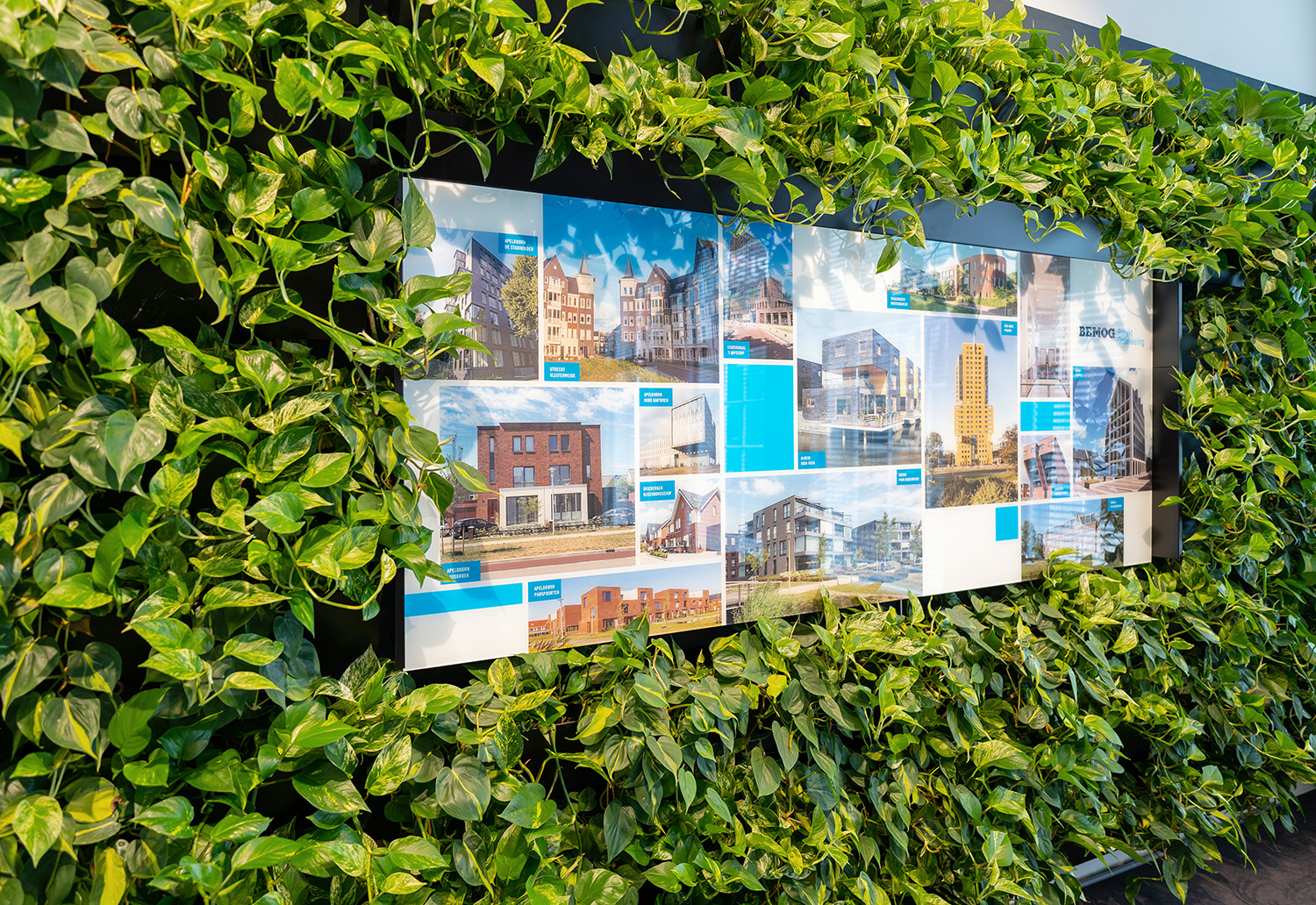 Green increses productivity
The air we breathe has a big
effect on how we feel. The more
oxygen our brains get, the better
we can think.
Green improves
acoustics
Excessive ambient noise has a
negative effect on our
concentration. Plants with a large
leaf surface help improve the
acoustics and attenuate ambient noise.
Green enhances
happines at work
Greenery has a proven positive
effect on people. It makes us
healthier, happier and more productive.
CERTIFIED SOLUTIONS
Our green indoor and outdoor solutions help achieve BREEAM and WELL certification.
For more information contact us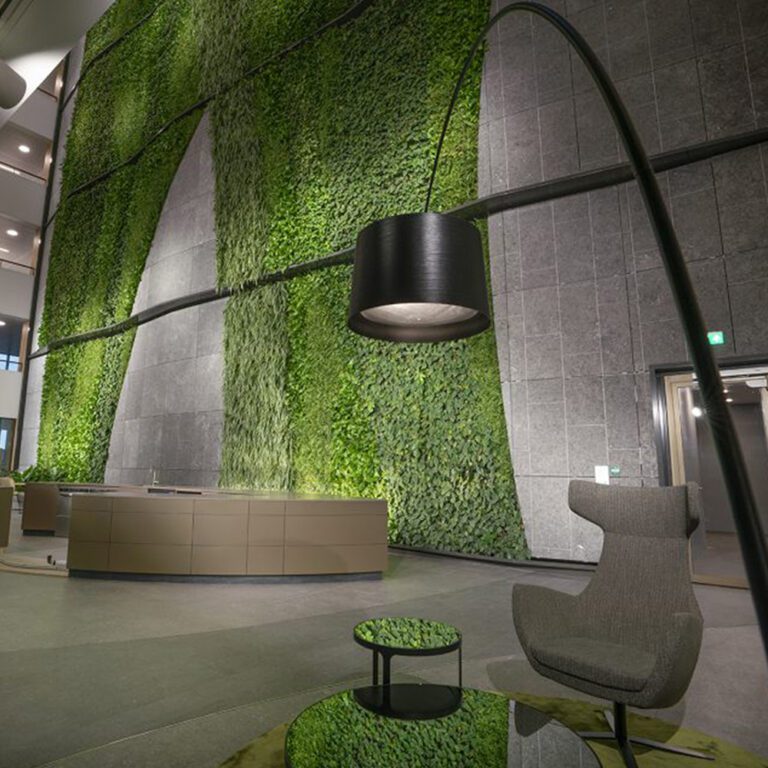 BREEAM
WELL
OUR GREEN INDOOR SOLUTIONS ARE MADE FROM SUSTAINABLE MATERIALS
All our solutions are produced circularly here in the Netherlands. Whether you go for a small plant wall up or a large plant wall. Thanks to the modular system, the plant wall always fits anywhere.
Small plant walls
Do you want a small vertical garden of up to approximately 25 m²? Then we use the MDL system for this. A robust, modular and fireproof system made of powder-coated (stainless) steel. The steel trays can be watered manually and semi-automatically.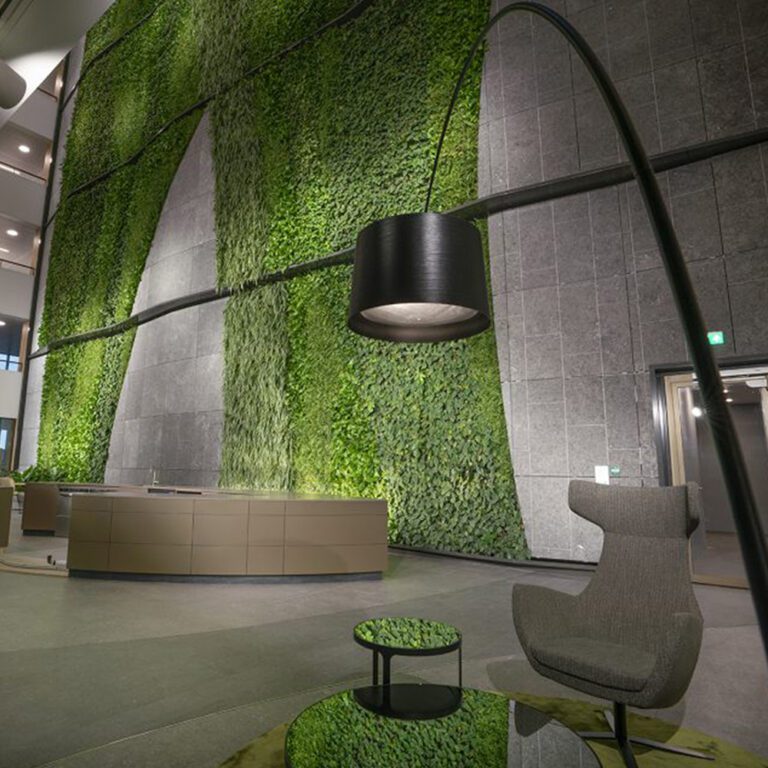 Large plant walls
Looking for a large plant wall? Then we use the EFIX system for this. A lightweight system that consists of steel wire baskets with stone wool substrate as a moisture and nutrient medium for the plants with a fully automatic watering system.
WATERING
FOR INDOOR
A green plant wall needs the right moisture management. All our solutions are therefore equipped with a watering system.
Manual or (semi-)automatic
The plants in the MDL system need water once every three weeks on average. We therefore recommend manual or (semi-)automatic watering. Everything is possible with the MDL system.
Fully automatic
For the EFIX system we use a fully-automatic irrigation system. From a standalone system to a simple solution with a water tank and pump. We look for the best solution together.
EVERYTHING YOU WANT TO KNOW ABOUT GREEN SOLUTIONS FOR INDOORS.
What does a green plant wall cost?
The cost of a green facade is highly dependent on a number of factors, like the system, the shape, and the size of the project. The average costs per m² are:
Projects in excess of 25 m² approx. € 600 to € 1,200 /m² (EFIX)
Projects under 25 m² approx. € 600 to € 800 /m² (MDL)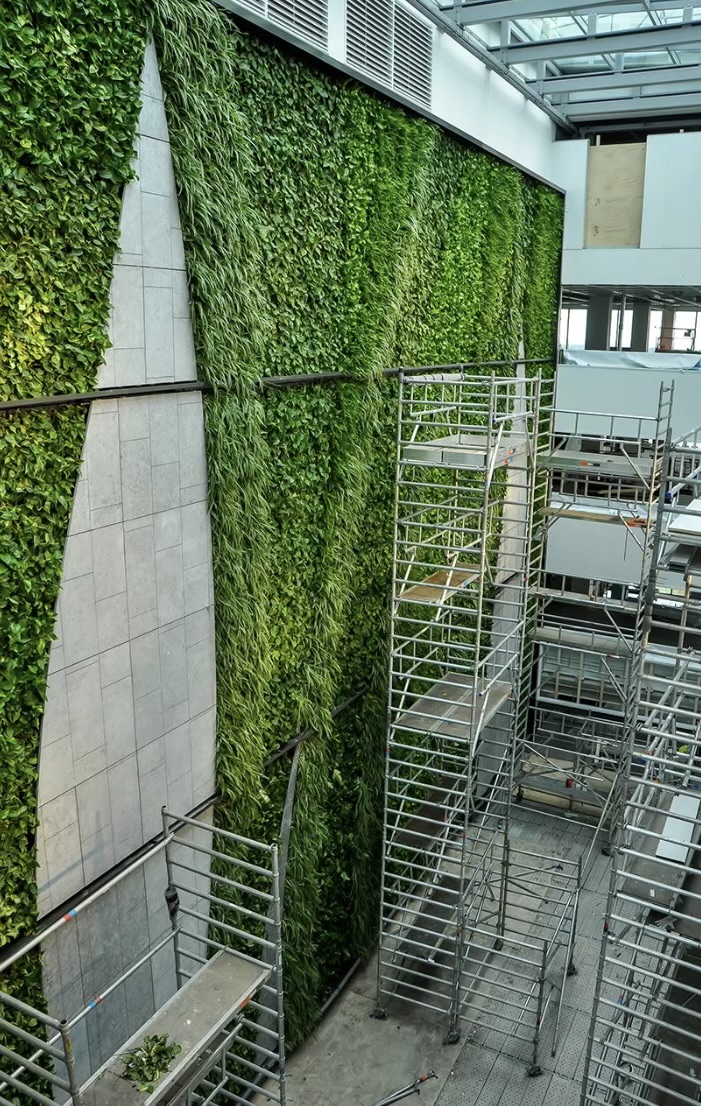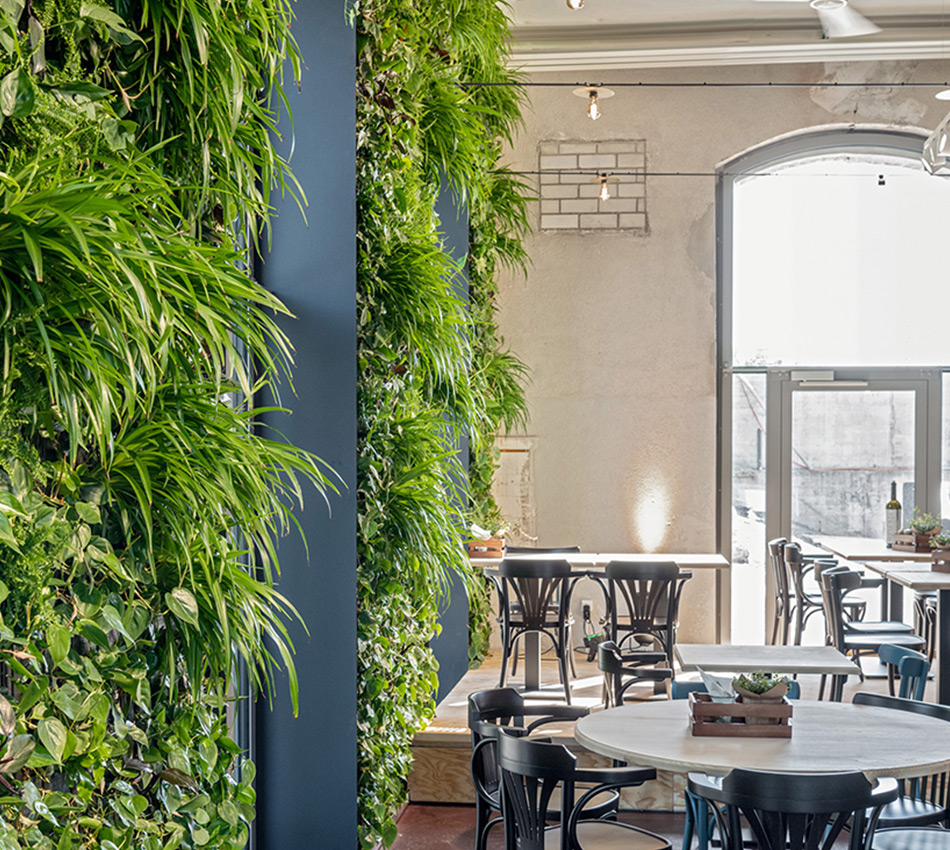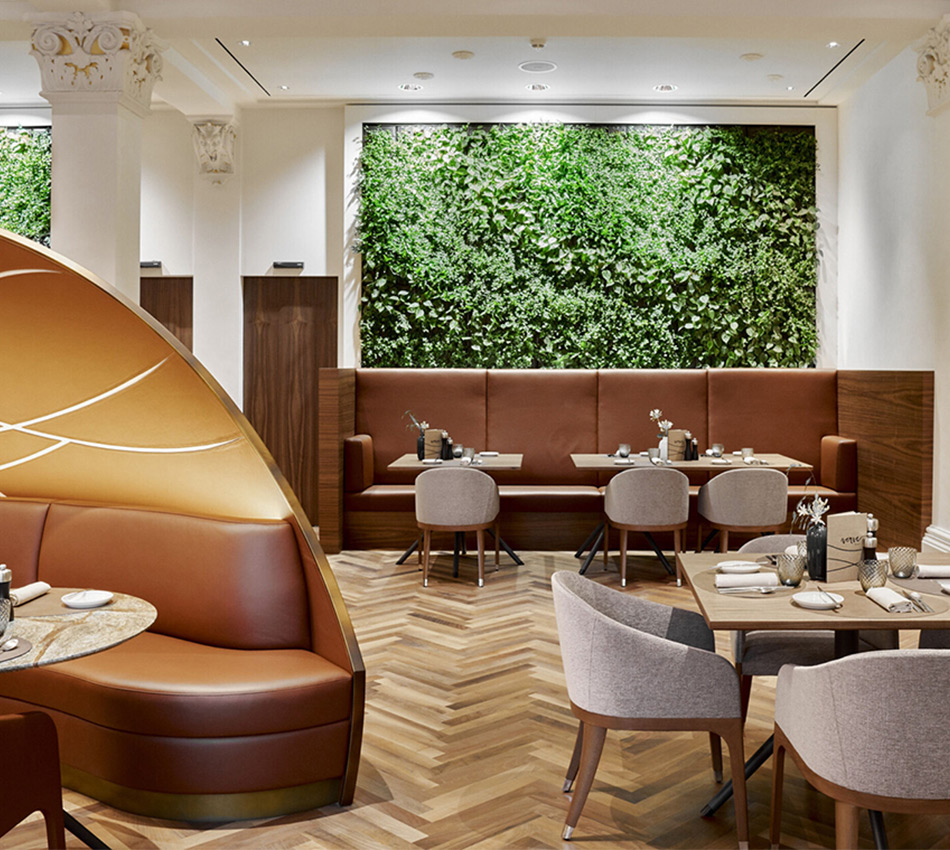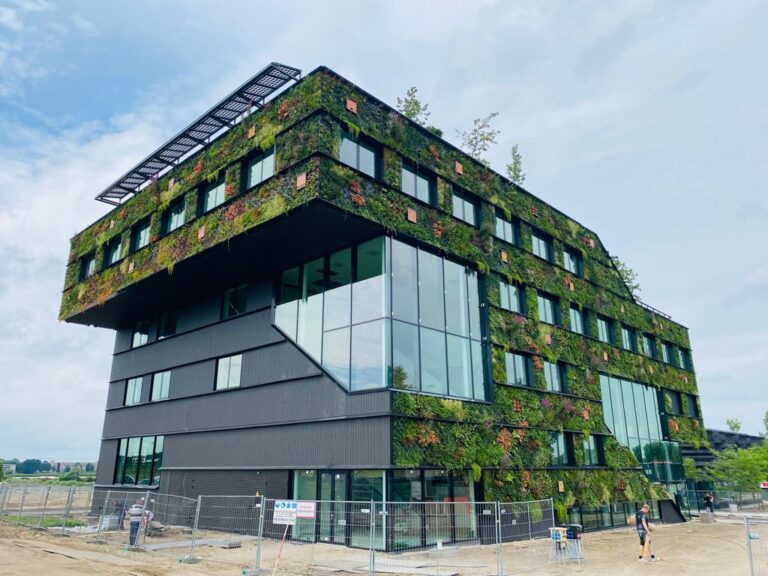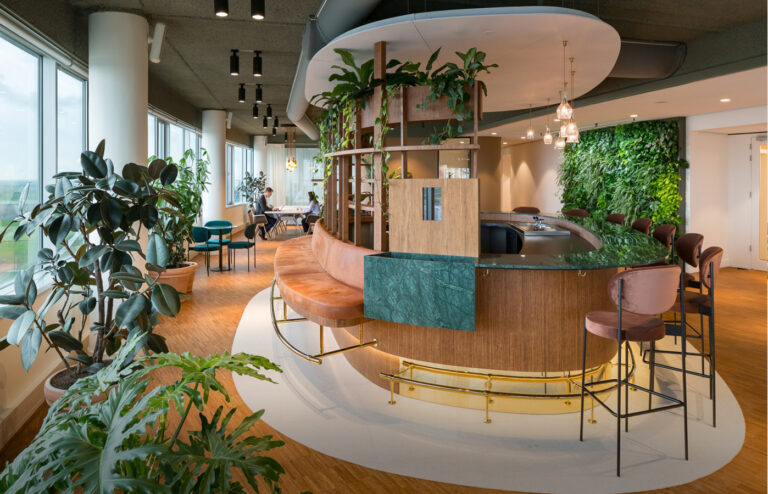 Are there any tax benefits to the acquisition of a green plant wall?
Yes, certainly. The investment is encouraged by the government because of the positive effects on the indoor climate.
There are various tax-related incentive schemes:
KIA – small projects investment credit: 28% of the purchase sum
MIA – Environmental investment allowance: 45% of the purchase sum
Random depreciation of environmental investments (VAMIL):
You can also opt for accelerated write-off in accordance with the VAMIL scheme: Random deduction of environmental investments: You can completely write off 75% of the purchase sum whenever you wish. You therefore delay payment of tax and achieve an advantage in respect of liquidity.
Are all your greening solutions certified
Yes, we have a fire safety certificate, Fire Class B-s1, d0 issued by Efectis, for the EFIX system. In addition, our plant walls help achieve BREEAM and WELL certification.
Can I tie my SDG goals to your products?
Absolutely. Green plant walls make a positive contribution to different SDGs. Read more about Cloud Garden and the SDG goals via our knowledge page
How much maintenance does a green plant wall need?
A plant wall requires monthly maintenance. You can expect ten minor and two major maintenance sessions a year.
Minor maintenance:
- Green facade check
- Replacement of a few plants
- Removal of dead foliage
Major maintenance:
- Maintenance of irrigation system
- Pruning and preparation for summer or winter
- Cleaning the gutters
CONTACT
Would you like to know more about Cloud Garden's green facade solution? Niels would be delighted to tell you more.