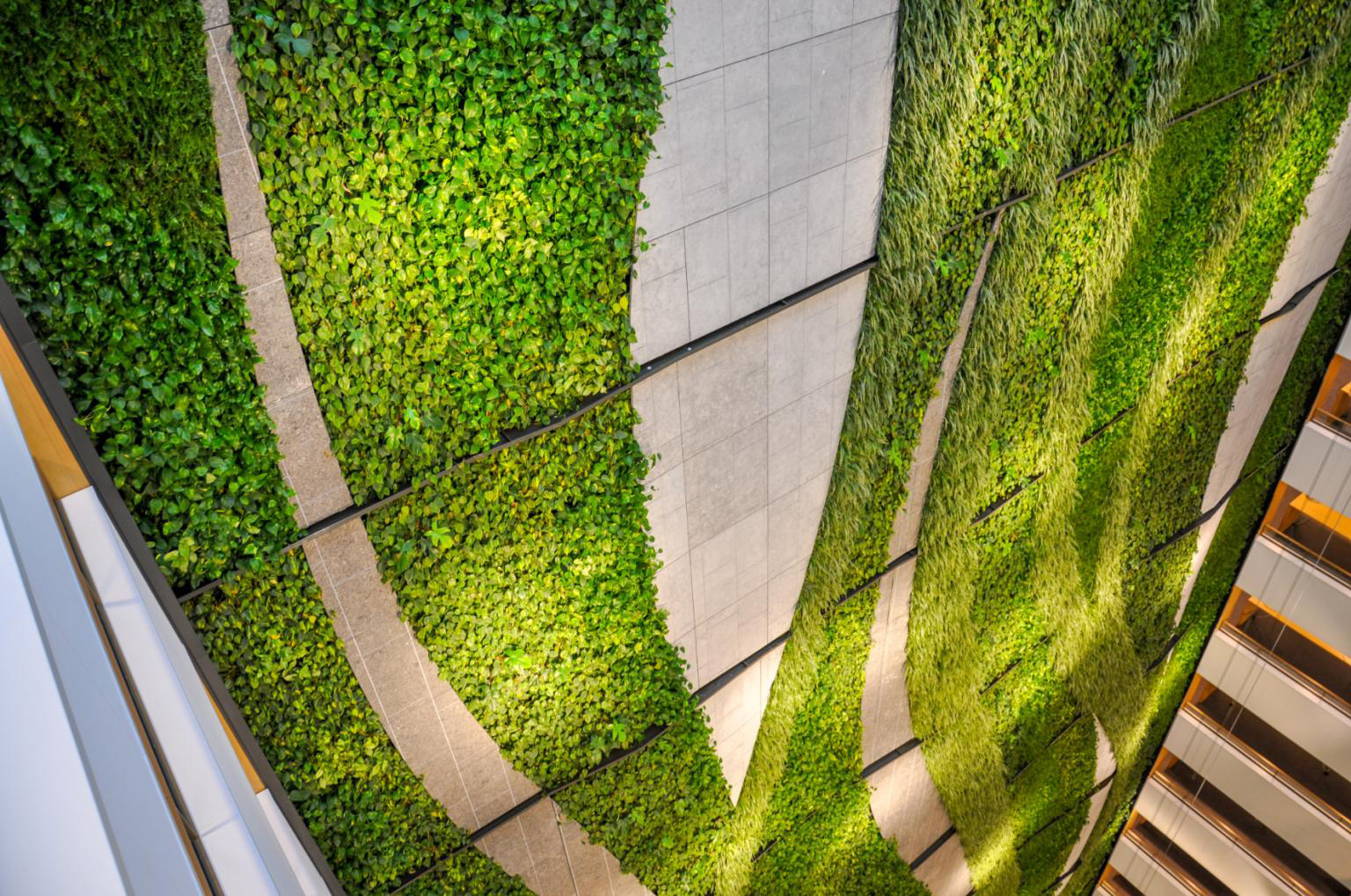 GREEN PLANT­WALL
FROM 25 M2
Need a plant wall for a surface larger than approximately 25 m²? Then go for the EFIX system. The green solution for wide and high surfaces.
REQUEST QUOTE
Create an optimal indoor climate with the green plant wall. 
GREEN
PLANT­WALL
Description
The EFIX green plant wall is a modular, circular and very fireproof plant wall system. The award-winning system consists of metal cassettes filled with a growth substrate and packed in fireproof film. The EFIX system is highly suited for greening projects in excess of 25 m².
The plant wall system is a sustainable choice. It is made of a high-quality powder-coated steel basket. The system therefore has an ultra-long lifespan.
The construction of this plant wall system requires automatic irrigation to guarantee a low-maintenance plant wall with a long lifespan.
Because the system is able to store a great deal of water and nutrients in its own growth substrate, the plant's own root structure provides it with the right amount of water and nutrients at all times.
System:
EFIX system. System is easy to install and uninstall. Includes plant cover.
Installation depth:
14,3 cm
Weight:
Approx. 50 kg/m² incl. plants and water
Material:
Powder-coated fire-retardant stainless steel.
Watering:
The EFIX system has an automatic irrigation system.
Plant density:
53 plants per m². 
Our complete green facade system, including the plant cover, complies with fire safety certificate B-s1, d0. All materials in the system are selected for their fire-resistant properties. In addition, the green facade stores about 35 litres of water, which serve as an additional protective buffer.
BENEFITS OF A GREEN PLANT WALL
Improves the indoor climate
Enhances happiness at work
REQUEST QUOTE
Need a quote for a green plant wall larger than 25 m²?
Then let us know the dimensions you desire.
We will provide you with a no-obligation quote.
OTHER CLOUD GARDEN PRODUCTS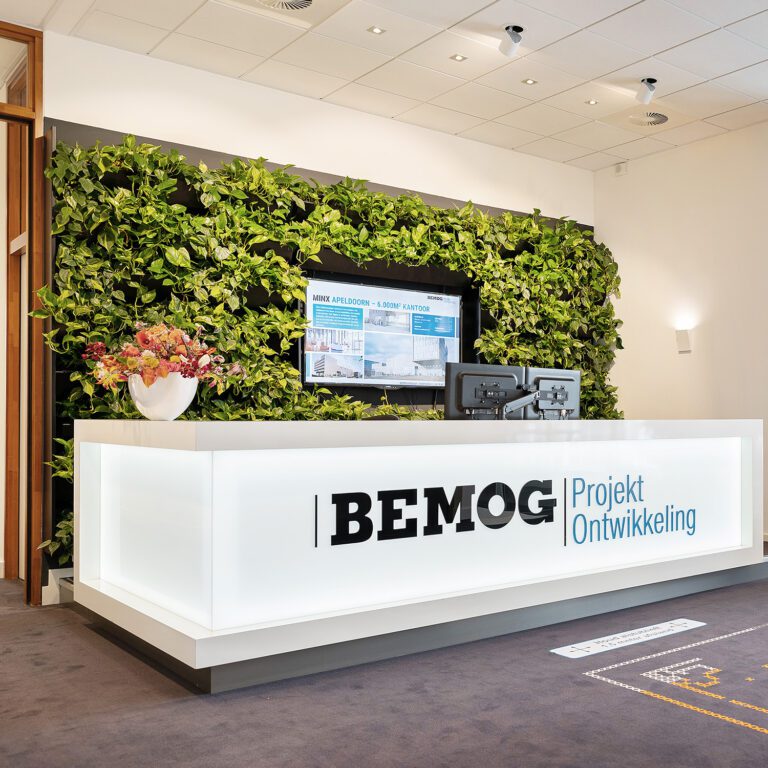 GREEN PLANTWALL TO 25 M2
Looking for a small green plant wall up to 25m²? Then choose Cloud Garden's MDL system. The green solution for small surfaces.
GO TO PRODUCT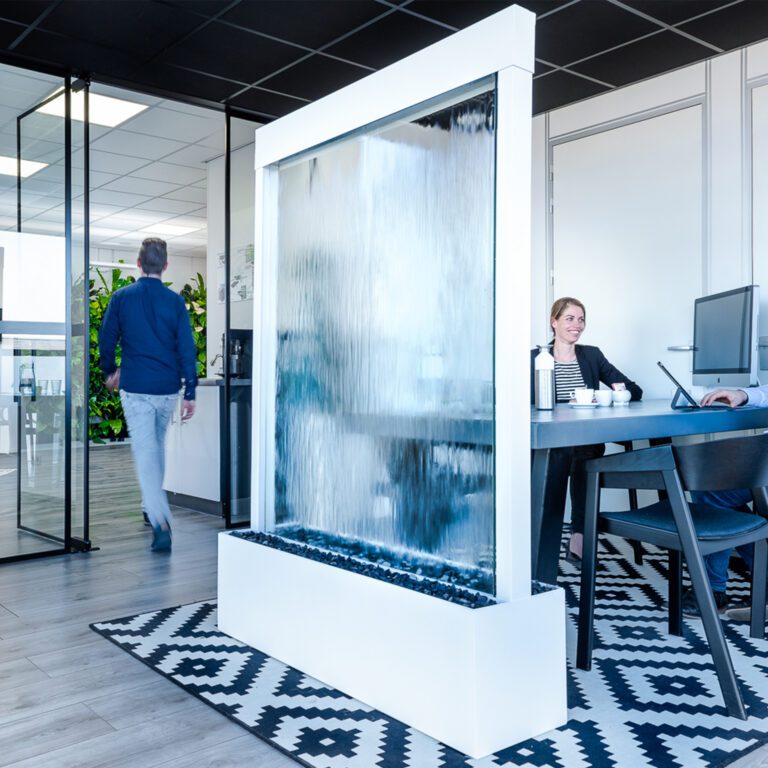 WATERWALL
A real eye-catcher. A transparent and translucent water wall that increases the humidity in the room. Customize the water wall with your own logo or text and create a unique item.
GO TO PRODUCT
PLANT WALL DIVIDER
An easy-to-move green plant wall that is immediately ready for use. The divider can be enhanced with different back walls, such as a whiteboard or rubberwood panel. This makes the plant wall divider multifunctional.
GO TO PRODUCT
CONTACT
Would you like to know more about Cloud Garden's green facade solution? Niels would be delighted to tell you more.