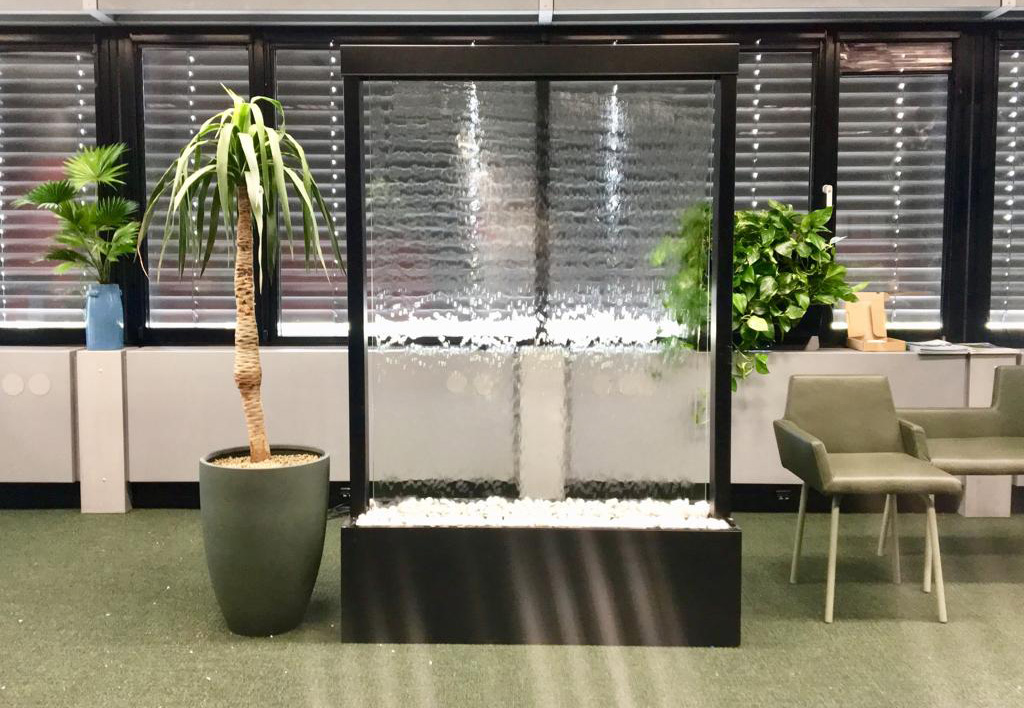 A real eye-catcher. A transparent and translucent water wall that increases the humidity in the space. Customise the water wall with your own logo or text and create a unique item.
REQUEST QUOTE
The water wall is completely silent and has a calming effect on the user in the space.
Use the water wall as a screen for extra privacy in the space.
WATERWALL
Description
Not only does the water wall have a positive effect on the indoor climate, it is also a real eye-catcher. The water wall creates a transparent, translucent screen that provides extra privacy. Due to its flowing effect, the water wall evaporates about three to five litres of water a day, depending on the indoor climate. The water wall therefore increases the humidity in the space considerably.
The Cloud Garden water wall has flowing water that is evaporated passively. This means the water is released into the space as gas (and not mist). Legionella cannot spread via water gas. The water walls are therefore guaranteed to be free of Legionella.
Cloud Garden's water wall is a sustainable choice. It is made of high-quality powder-coated stainless steel.
Weight:
Approx. 220 kg incl. water.
Water reservoir:
120 litres water.
Material:
Powder-coated fire-retardant stainless steel.
Watering:
The water reservoir needs to be topped up every 4 weeks.
Customize:
Option to place a logo or text on the glass.
The metal that is used by Cloud Garden is RVS 304L 2B. The metal is Fire Class A and is therefore non-flammable.
Fire Class A
The material becomes slacker from ± 450°C
The material becomes weaker from 550°C
The construction becomes distorted from 10 minutes at 600°C (loss of strength)
Calming effect on the user in the space.
Filters particulate matter and formaldehyde
REQUEST QUOTE
Need more information about the water wall?
We will provide you with a no-obligation quote.
OTHER CLOUD GARDEN PRODUCTS
GREEN PLANT WALL TO 25M2
Looking for a small green plant wall to  approximately 25 m²? Then go for Cloud Garden's MDL system. The green solution for small surfaces.
GO TO PRODUCT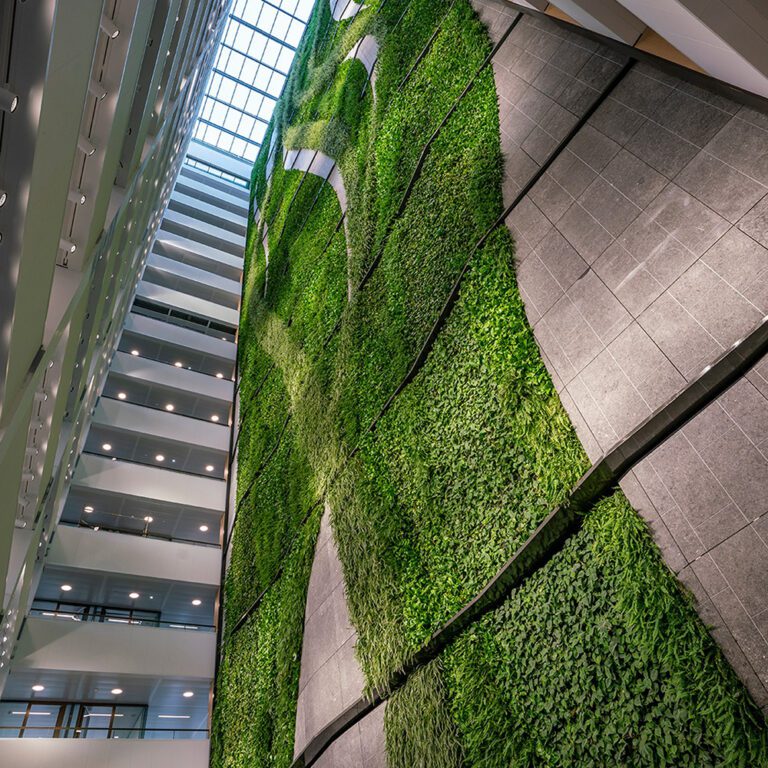 GREEN PLANT WALL ABOVE 25M2
A plant wall for an area larger than 25m²? Then choose the EFIX system. The green solution for wide and high surfaces.
GO TO PRODUCT
PLANT WALL DIVIDER
A green plant wall that is easy to move and ready to use immediately. The divider can be enhanced with various backing walls, like a whiteboard or rubberwood panel, making the plant wall divider multifunctional.
GO TO PRODUCT
CONTACT
Would you like to know more about Cloud Garden's green facade solution? Niels would be delighted to tell you more.