Looking for a small green plant wall to  approximately 25 m²? Then go for Cloud Garden's MDL system. The green solution for small surfaces.
REQUEST A QUOTE
Create an optimal indoor climate with the green plant wall.
An eye-catcher in any space.
Surprise yourself, everything is possible.
GREEN
PLANT­WALL
Product description
The MDL green plant wall consists of fireproof steel plant modules filled with air-purifying plants in potting soil or hydroculture. This system is fully modular in construction and circularly produced in the Netherlands.
Thanks to its modular construction, this green plant wall always fits anywhere. In addition, the modularity enables many creative interpretations. For example, you can opt for a styled plant wall with sleek lines and patterns, or a staggered jungle plant wall with a diversity of plants.
The plant wall system is a sustainable choice. It is made of high-quality powder-coated stainless steel. It therefore need never be replaced.
The MDL system is supplied with a manual water buffer, which is integrated into the stainless steel plant modules. The system therefore requires little maintenance. Once every 3 to 4 weeks on average. In addition to the manual watering system, a fully automatic irrigation system is also possible. For more information, contact us.
System:
MDL system. Easy to install and uninstall. Includes plant cover.
Plant modules:
The plant modules are 100/125/150 cm wide and 21.1 cm deep.
Weight:
90 kg/m² maximum incl. plants.
Material:
Powder-coated fire-retardant steel.
Watering:
The wall modules are equipped with a manual hydrological system.
Irrigation system:
In addition to manual watering, a fully automatic irrigation system is also possible.
The steel that Cloud Garden uses is Fire Class A and is therefore non-flammable.
Fire Class A
The material becomes slacker from ± 450°C
The material becomes weaker from 550°C
The construction becomes distorted from 10 minutes at 600°C (loss of strength)
PLANT SPECIES
We decide on the plant mix for the green wall in collaboration with you. From a fully styled plant wall to a staggered jungle wall with a mix of plants. We cater for all needs. View the indoor air-purifying plants here.
BENEFITS OF A GREEN PLANT WALL
Improves the indoor climate
Enhances happines at work
REQUEST A QUOTE
Need a quote for a green plant wall smaller than 25 m²? Then let us know the dimensions you desire. We will provide you with a no-obligation quote
OTHER CLOUD GARDEN PRODUCTS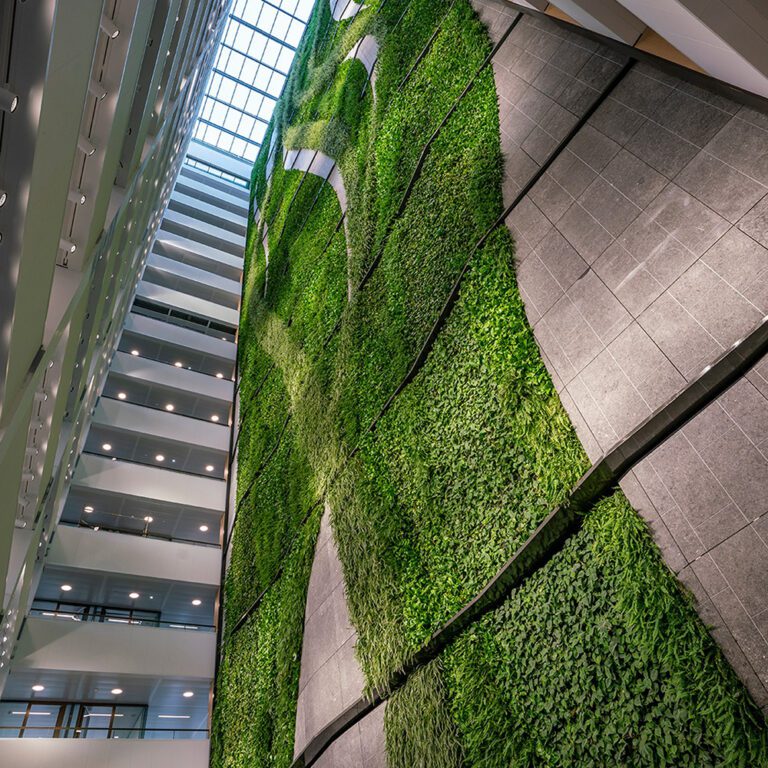 GREEN PLANTWAL FROM 25M2
A plant wall for an area larger than 25m²? Then choose the EFIX system. The green solution for wide and high surfaces.
GO TO PRODUCT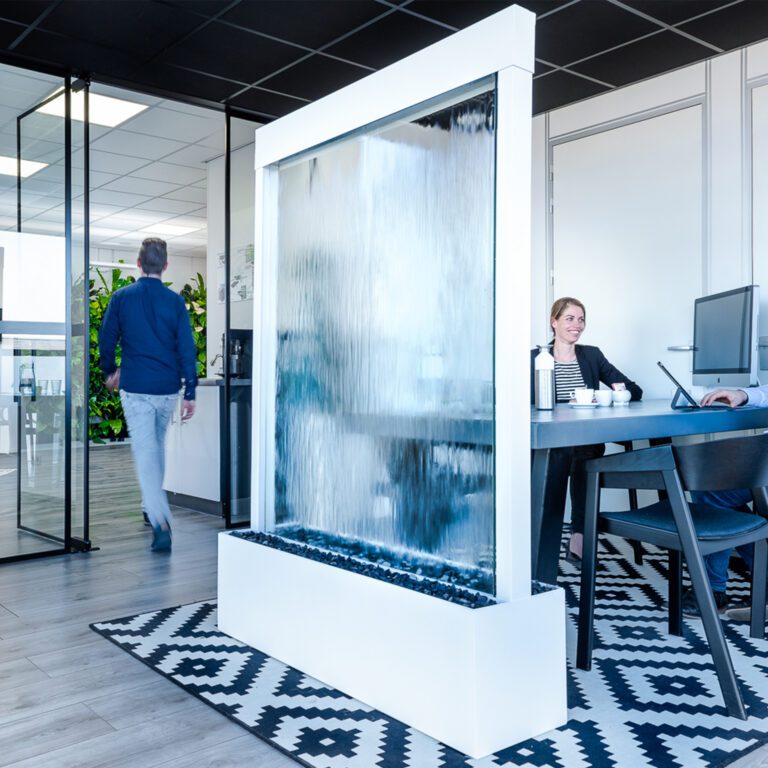 WATERWALL
A real eye-catcher. A transparent and translucent water wall that increases the humidity in the room. Customize the water wall with your own logo or text and create a unique item.
GO TO PRODUCT
PLANT WALL DIVIDER
An easy-to-move green plant wall that is immediately ready for use. The divider can be enhanced with different back walls, such as a whiteboard or rubberwood panel. This makes the plant wall divider multifunctional.
GO TO PRODUCT
CONTACT
Would you like to know more about Cloud Garden's green facade solution? Niels would be delighted to tell you more.