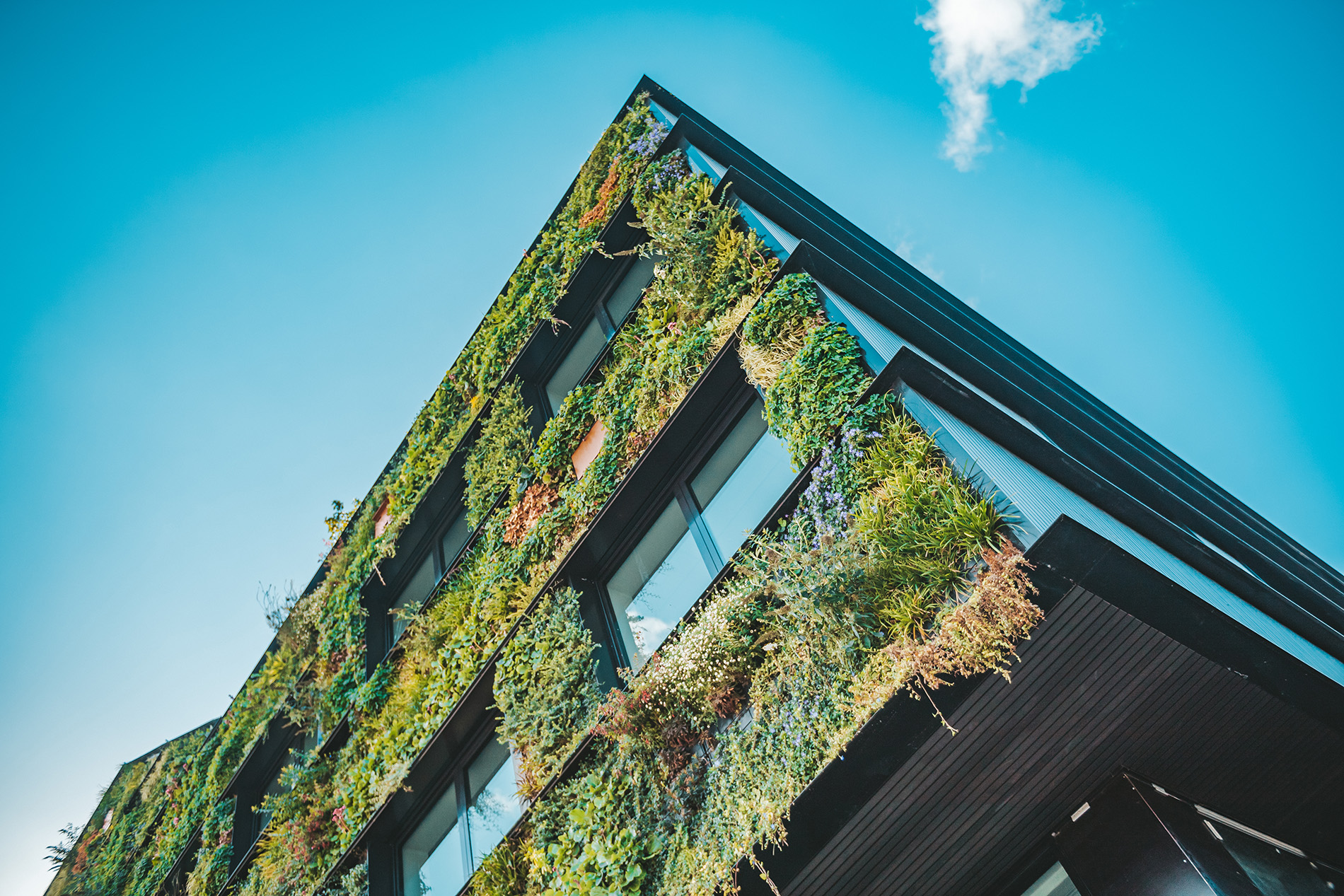 GREEN FACADE
FACADE­PLANTING FOR
ALL TYPES OF FACADES
Looking for a valuable eye-catcher that cools, supports biodiversity and adds value to your building? Then choose the green facade of Cloud Garden. A smart, modular and easy-to-assemble system that fits on any facade.
DOWNLOAD OUR BROCHURE
Green facades made of sustainable materials.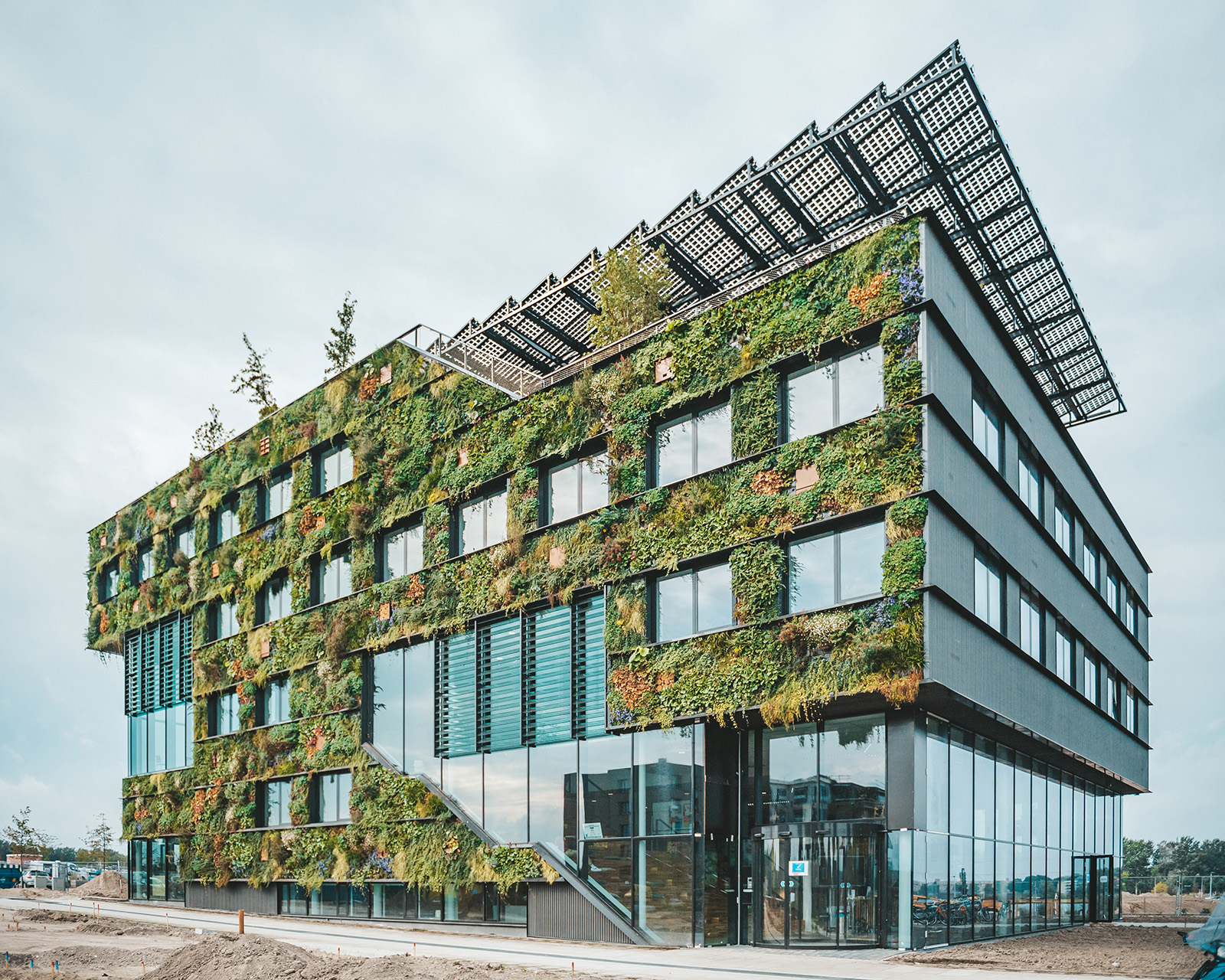 For new and existing buildings, applicable to any facade.
Choose from a wide range of (native) plants for a special and sustainable character.
CONTACT WITH
CLOUD GARDEN
Are you considering a green facade and would you like to know more?
Please feel free to contact us. We are happy to help you.
IMPROVE BIODIVERSITY WITH GREEN FACADES
Cloud Garden's green facades help improve biodiversity. If desired, we first carry out an ecological scan before we cover the facade. We study the climate and the biodiversity in the area and analyse the facade orientation during the day and the season. We then use all these insights to create the ideal plant mix, combined with provisions for birds, bats, butterflies and other insects. We analyse what animals and insects live in the area in order to strengthen the local biodiversity.
GREEN FACADES MADE FROM SUSTAINABLE MATERIALS
An easy-to-assemble facade system for (structural) applications. Suitable for new and existing construction.
WHY A
GREEN FACADE FROM
CLOUD GARDEN?
Fire-resistant
Our complete green facade system, including the plant cover, complies with fire safety certificate B-s1, d0. All materials in the system are selected for their fire-resistant properties. In addition, the green facade stores about 35 litres of water, which serve as an additional protective buffer.
Biodiversity
The green facade is a habitat for various animal species such as birds, butterflies, bees and other insects. These animals can live, eat and nest on the facade, which contributes to local biodiversity in urban areas. Read more about biodiversity
Noise attenuating
A green facade absorbs ambient noise. The plants have a sound-insulating effect due to their irregular shapes. They absorb sound vibrations and reflect sound waves in different directions.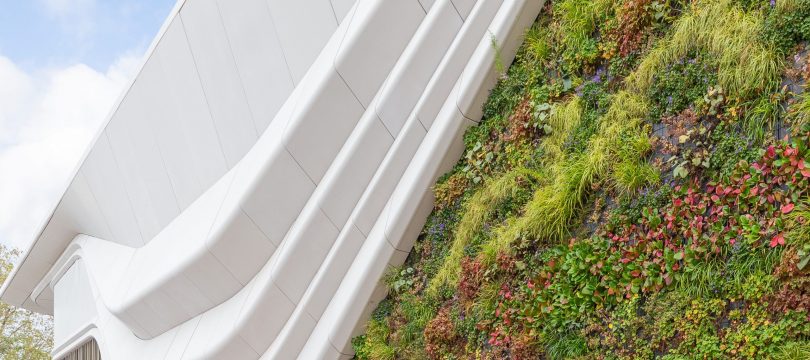 Good insulation
Plants have the property of evaporating the water absorbed through the leaf surface. This produces a cooling effect in and around the building. The green facade also provides a shield against high temperatures.
CO2 reduction
A green facade helps reduce CO2 concentrations in the air. The plants on the facade absorb CO2 and convert it into glucose and oxygen, which improves the air quality. This photosynthesis is a natural phenomenon that can be applied in the built environment very effectively.
CERTIFIED SOLUTIONS
Our green indoor and outdoor solutions help achieve BREEAM and WELL certification. For more information, contact us
EVERYTHING YOU WANT TO KNOW ABOUT GREEN FACADES
What does a green facade cost?
The cost of a green facade is highly dependent on a number of factors, like the system, the shape, and the size of the project. The average costs per m² are:
approx. € 600 to € 1,200 /m²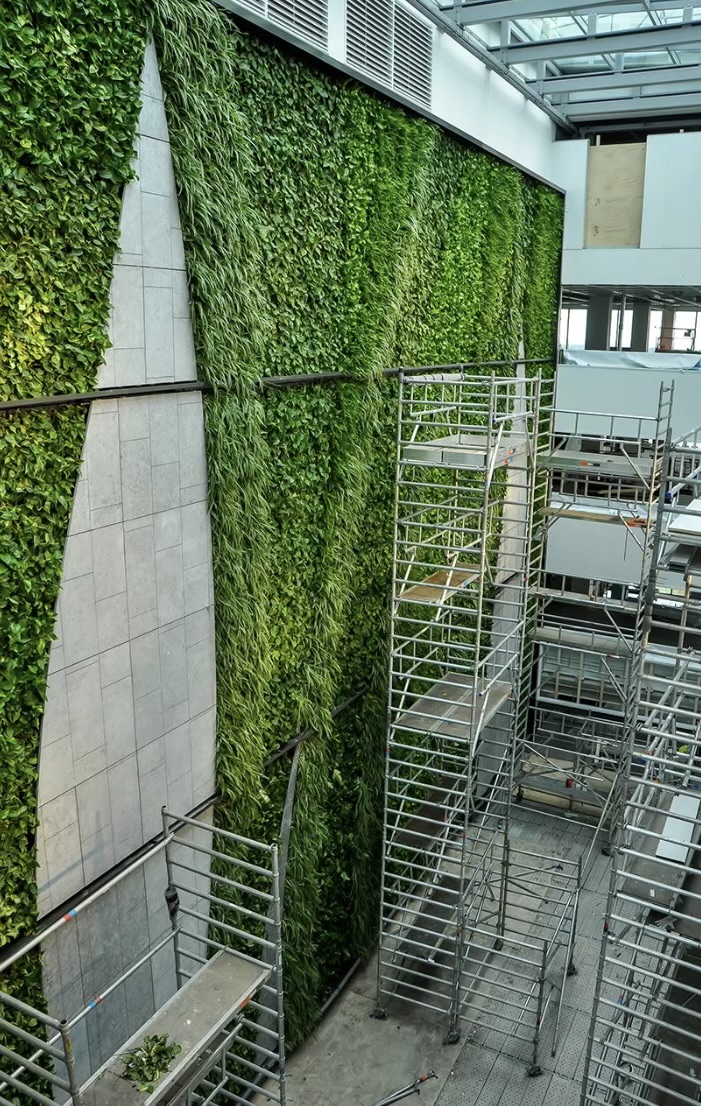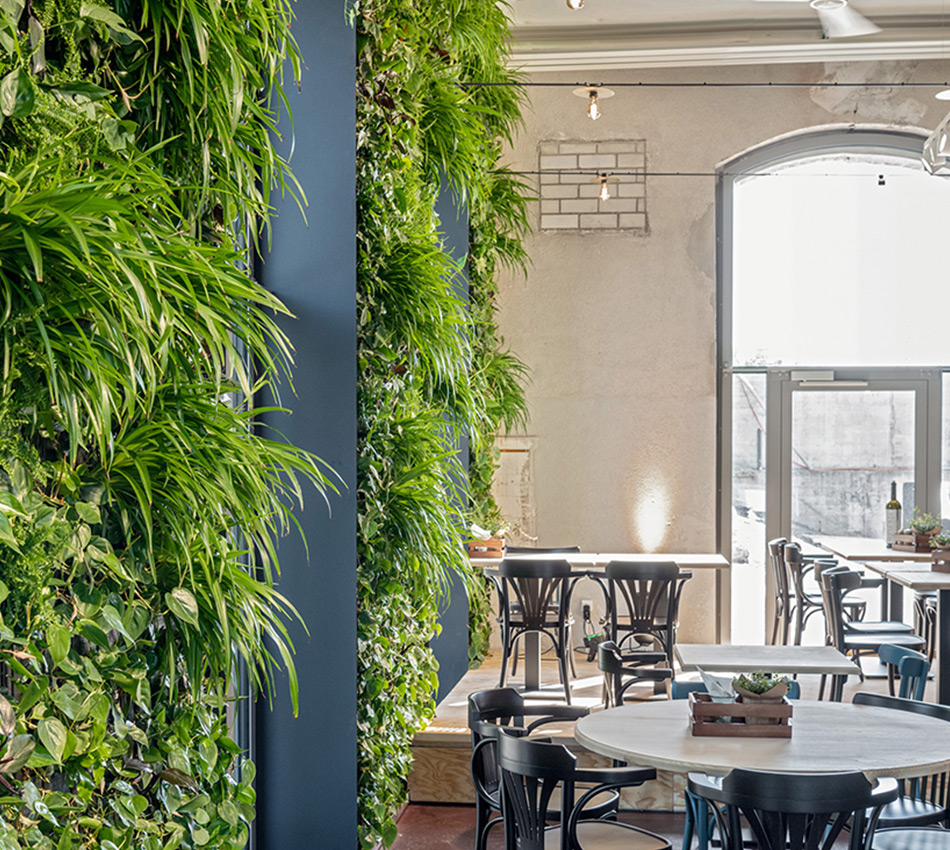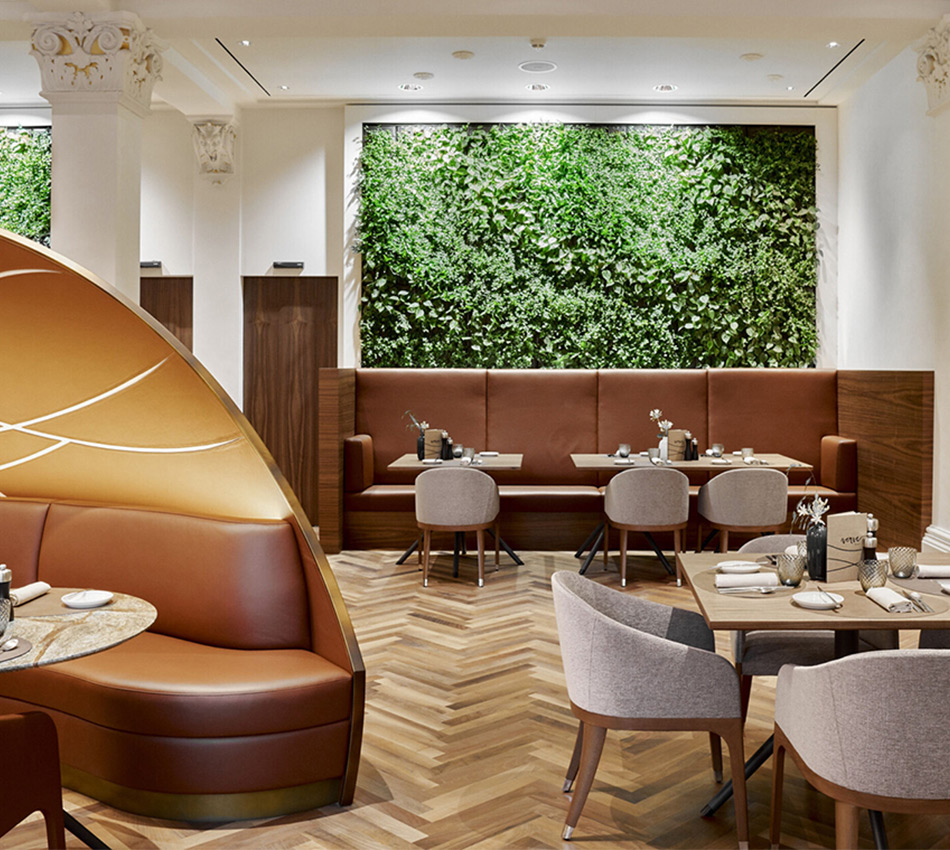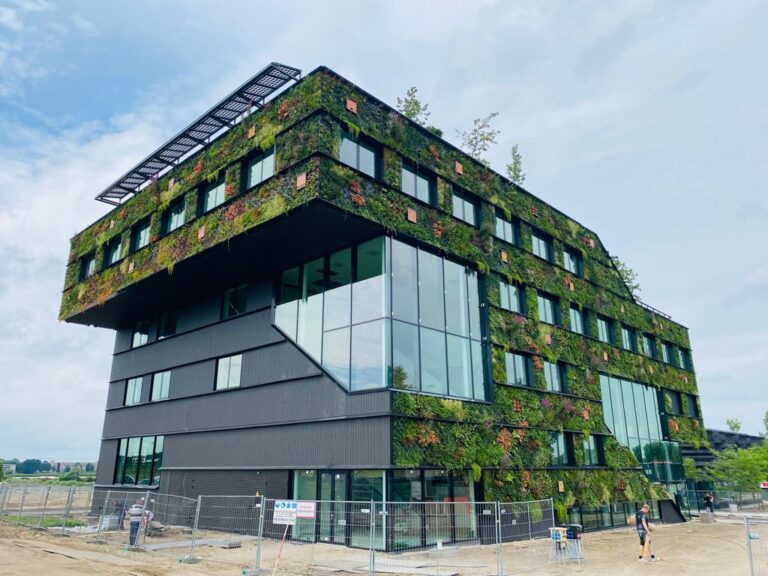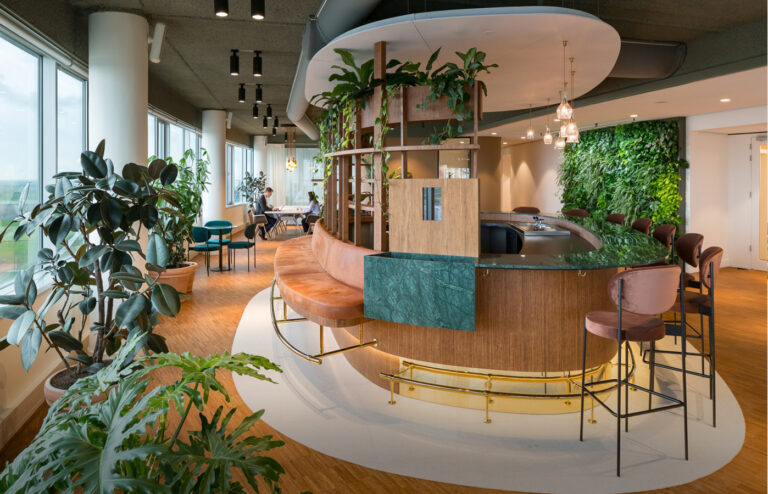 Are there any tax benefits to the acquisition of a green plant wall?
Yes, certainly. The investment is encouraged by the government because of the positive effects on the indoor climate.
There are various tax-related incentive schemes:
KIA – small projects investment credit: 28% of the purchase sum
MIA – Environmental investment allowance: 45% of the purchase sum
Random depreciation of environmental investments (VAMIL):
You can also opt for accelerated write-off in accordance with the VAMIL scheme: Random deduction of environmental investments: You can completely write off 75% of the purchase sum whenever you wish. You therefore delay payment of tax and achieve an advantage in respect of liquidity.
Also some municipalities and governments like to stimulate investments in biodiverse green facades that cool cities.
Can the green facade be installed on any surface?
The green facade can be installed on all structurally sound facades with a load-bearing capacity of 50 kg per m². From concrete, brick, wood to steel. Read more about the technical specifications.
How is watering managed?
A fully automatic irrigation system provides the right levels of moisture for the green facade. From a basic standalone system to an advanced web-based system with options such as moisture and temperature sensors. Read more about the technical specifications.
Are the green facades fire safe?
Yes, we have a fire safety certificate for Fire Class B-s1, d0 issued by Efectis.
CONTACT
Would you like to know more about Cloud Garden's green facade solution? Niels would be delighted to tell you more.